Destination Salem Blog
This itinerary is part of our Tuesday series of suggested ways to explore Salem. These itineraries are not available as a package, and are only suggested ways to explore Salem. Please contact listed sites for hours, rates, and schedules. Previous itineraries include: Two-Night Itinerary for a Family, Food, Fish, and History, a Salem Day-trip from Boston, An All-American Trip to Salem, and the Land of Witches and Pirates.
We are in the height of summer, which means we are at our busiest season for family travel. Not every family is looking to spend a king's ransom on their vacation, and it is certainly possible to see Salem on a budget. Start out by checking out our list of Ten Free Things to Do, and then consider these attractions, restaurants, and accommodations options. Bring comfortable shoes and get ready to have fun exploring Salem!
DO
Salem Maritime National Historic Site
160 Derby Street, Salem
(978) 741-1650 | nps.gov/sama
Tours of the wharves, buildings, and tall ship Friendship are free at your National Park! You can opt for a self-guided experience, or make a reservation for a timed, guided tour. Stop at the Visitor Center at 2 New Liberty Street to see the free film, Where Past is Present, and learn about the history of Salem and the region.
Salem Museum
Old Town Hall, 32 Derby Square
(978) 744-0007 | TheSalemMuseum.org
Learn the hidden stories about the amazing lives that have contributed to the establishment and growth of Salem, Massachusetts. From Roger Conant's arrival in 1626 through the Witch Trials, the Maritime Era, Nathaniel Hawthorne, the Great Salem Fire, Parker Brothers, and more. You are sure to be surprised by the history here in Salem.
Salem Witch Trials Memorial
Liberty Street between Derby and Charter Streets
SalemAward.org
Symbolically located behind the Old Burying Point, the Salem Witch Trials Memorial serves as a somber place of remembrance for visitors and descendants of those condemned in 1692.
DINE
Boston Hot Dog
60 Washington Street
(978) 744-4168 | BostonHotDog.co
This locally owned gourmet hot dog stand has new ownership in 2014. We like the California Dog and the Slaw Dog, and the kids can't go wrong with the Kid's Dog Meal, which includes a small drink and chips.
Essex NY Pizza & Deli
One Museum Place Mall
(978) 741-1383 | EssexNYPizza.com
Serving New York style hand-tossed pizza, Essex's also has salads, sandwiches, and dinners.
STAY
Winter Island Maritime Park
50 Winter Island Road
(978) 745-9430 | Salem.com
RV and tent camping May 20-November 1. Walking paths of Winter Island, camp and gift store, public beach, historic fort, and Pickedring Lighthouse.
Clipper Ship Inn
40 Bridge Street
(978) 745-8022 | ClipperShipInn.com
Rooms and suites at budget-friendly rates, ample parking, located just outside the historic downtown district.
Be social! Share your Salem with us by tagging #SalemMA or #DestSalem on Instagram, Twitter, and Facebook. We may share your favorite shots!
Posted by Kate on 07/29 at 08:00 AM
Permalink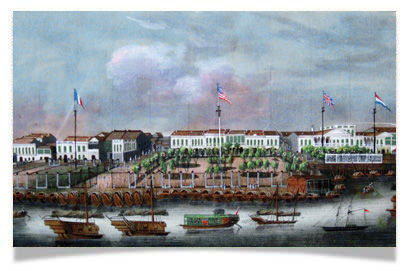 Salem, among other sites, is featured in the China Trade Trail brochure, a publication of the Forbes House Museum in Milton, Massachusetts.
The China Trade Trail beckons you to ten Massachusetts destinations in pursuit of the American China Trade, a phenomenon in our nation's history. The Revolutionary war was won! No longer would citizens be tethered to economic constraints dictated by England. In the 19th century, entrepreneurial merchants, based in Boston, seized the opportunity to trade with the East. At first, departures to China took place from the exotic port at Salem. As trade accelerated, operations moved to Boston to accommodate larger ships, due to its deeper waters, and provide more docks to meet the demand of growing fleets.
The China Trade Trail features eleven locations in eastern Massachusetts, including the Salem Maritime National Histoirc Site and the Phillips House Museum. The featured sites will share with you the stories of sea captains and their families, treasures brought back from afar, and their adventures establishing trade with ports along the Afircan, South American, and American Pacific Northwest coasts.
We feature the China Trade, and Salem's Sea Trade in the 2014 Salem Guide. You can view the 2014 guide, and request a free copy of the Guide, at Salem.org/Guide.
Posted by Kate on 07/26 at 08:00 AM
Permalink
Subscribe to Our Blog

Free Guide!