Destination Salem Blog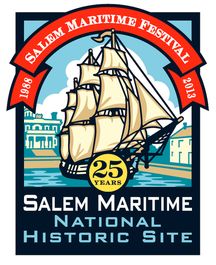 The Salem Maritime Festival
Saturday, August 2nd, 2014
10am - 4:00pm | FREE!
Visit Salem Maritime National Historic Site on Saturday, August 2, and you will discover a day of activity and fun for the whole family! Music, Demonstrations, Exhibits, and Children's Activities will be available throughout the park and on Derby Wharf. The festival will include live music, free 90-minute harbor cruises, Friendship of Salem Ship Tours, numerous kids activities including the Junior Ranger Program, boat tours & demonstrations, opportunities to cruise, sail, paddle, and row in Salem Harbor, and traditional craft demonstrations.
Harbor Cruises
Probably the most popular feature of the Salem Maritime Festival are the free, 90-minute boat rides around Salem Harbor aboard one of three vessels. All Salem Maritime Festival visitors are invited to enter a drawling for one free boat ride on the vessel of their choice. Tickets may be secured via an onsite lottery on the day of the Festival. Random drawings at the Harbor Cruise Tent on Central Wharf will be held 30 minutes prior to each cruise departure.Ticketed passengers (only) should be prepared for immediate departure down the Central Wharf gangway, and will come aboard, meet the crew and join in the hands-on activities. NOTE: All children under the age of 16 years must be accompanied by an adult.
Participating vessels are:
Schooner Fame, a full-scale replica of a War of 1812 Privateer
Ardelle, a Gloucester Schooner
Sea Shuttle's Endeavour, come aboard and learn about the marine science of Salem Sound!
In addition, the Lewis H. Story, an authentic replica Chebacco Boat, will be visiting during the Festival.
Children's Activities
Children's activities will take place on the historic wharves. There will be an entire tent of fun crafts to do. Kids can also tour the tall ship Friendship of Salem, and earn Junior Ranger badges by participating in scavenger hunts and other fun activities.
Salem Sound Coastwatch will sponsor a muck walk on Derby Wharf Beach. Learn about life at low tide in Salem Harbor. Boots will be provided. Demonstrators and Exhibitors Hands-on demonstrations and other activities will be scattered around the park.
Traditional crafts like spinning, coopering, traditional small craft building, and model shipbuilding will be exhibited in working demonstrations.
Friendship of Salem
The tall ship, Friendship of Salem, will be open from 10:00 am to 4:00 pm, with hands-on cargo loading and sail setting activities, Junior Ranger booklets, and National Park Service Rangers and volunteers will be on hand to introduce visitors to the lives of sailors, captains, and merchants in the Great Age of Sail.
The 2014 Salem Maritime Festival is hosted by Salem Maritime, your national park in Salem in cooperation with the Essex National Heritage Commission.
Posted by Kate on 07/31 at 10:31 AM
Permalink
This itinerary is part of our Tuesday series of suggested ways to explore Salem. These itineraries are not available as a package, and are only suggested ways to explore Salem. Please contact listed sites for hours, rates, and schedules. Previous itineraries include: Two-Night Itinerary for a Family, Food, Fish, and History, a Salem Day-trip from Boston, An All-American Trip to Salem, and the Land of Witches and Pirates.
We are in the height of summer, which means we are at our busiest season for family travel. Not every family is looking to spend a king's ransom on their vacation, and it is certainly possible to see Salem on a budget. Start out by checking out our list of Ten Free Things to Do, and then consider these attractions, restaurants, and accommodations options. Bring comfortable shoes and get ready to have fun exploring Salem!
DO
Salem Maritime National Historic Site
160 Derby Street, Salem
(978) 741-1650 | nps.gov/sama
Tours of the wharves, buildings, and tall ship Friendship are free at your National Park! You can opt for a self-guided experience, or make a reservation for a timed, guided tour. Stop at the Visitor Center at 2 New Liberty Street to see the free film, Where Past is Present, and learn about the history of Salem and the region.
Salem Museum
Old Town Hall, 32 Derby Square
(978) 744-0007 | TheSalemMuseum.org
Learn the hidden stories about the amazing lives that have contributed to the establishment and growth of Salem, Massachusetts. From Roger Conant's arrival in 1626 through the Witch Trials, the Maritime Era, Nathaniel Hawthorne, the Great Salem Fire, Parker Brothers, and more. You are sure to be surprised by the history here in Salem.
Salem Witch Trials Memorial
Liberty Street between Derby and Charter Streets
SalemAward.org
Symbolically located behind the Old Burying Point, the Salem Witch Trials Memorial serves as a somber place of remembrance for visitors and descendants of those condemned in 1692.
DINE
Boston Hot Dog
60 Washington Street
(978) 744-4168 | BostonHotDog.co
This locally owned gourmet hot dog stand has new ownership in 2014. We like the California Dog and the Slaw Dog, and the kids can't go wrong with the Kid's Dog Meal, which includes a small drink and chips.
Essex NY Pizza & Deli
One Museum Place Mall
(978) 741-1383 | EssexNYPizza.com
Serving New York style hand-tossed pizza, Essex's also has salads, sandwiches, and dinners.
STAY
Winter Island Maritime Park
50 Winter Island Road
(978) 745-9430 | Salem.com
RV and tent camping May 20-November 1. Walking paths of Winter Island, camp and gift store, public beach, historic fort, and Pickedring Lighthouse.
Clipper Ship Inn
40 Bridge Street
(978) 745-8022 | ClipperShipInn.com
Rooms and suites at budget-friendly rates, ample parking, located just outside the historic downtown district.
Be social! Share your Salem with us by tagging #SalemMA or #DestSalem on Instagram, Twitter, and Facebook. We may share your favorite shots!
Posted by Kate on 07/29 at 08:00 AM
Permalink
Subscribe to Our Blog

Free Guide!