Destination Salem Blog
12th Annual Salem's So Sweet Chocolate & Ice Sculpture Festival
The Chocolate & Wine Tasting Event is Feb. 7, tickets are for sale NOW!
Salem Main Streets and the Salem Chamber of Commerce, along with local retailers, restaurants and businesses invite you to attend the 12th annual Salem's So Sweet, Chocolate & Ice Sculpture Festival. A decadent tradition of delectable chocolate, sparkling ice sculptures and Valentine's Day shopping…don't miss Salem's sweetest event of the year!
The festival officially kicks off with a Chocolate and Wine Tasting, on Friday, February 7th from 6:30 - 8:30 pm, at Colonial Hall at Rockafellas, 227 Essex Street. This luscious tasting event features wine and chocolate samplings from premier Salem restaurants, stores and sweet shops. Tickets are $25 and can be purchased in advance starting January 16th. Tickets can be purchased over the phone by calling 978-744-0004, online at SalemSoSweet.EventBrite.com, or in person at the Salem Chamber of Commerce, 265 Essex Street, Suite 101. This event is the highlight of the season and sells out quickly!
This year there will be more than 14 large ice sculptures, chocolate samplings and great discounts around downtown Salem the weekend of February 8-9, with some continuing until February 16th in celebration of Valentine's Day! The beautiful ice sculptures will grace downtown Salem starting February 8, with themes including a seahorse, a rubber ducky, a sailboat, a film projector, and more!

The Salem Trolley will be offering trolley rides around the festival route weather permitting on February 8 & 9 for a minimal fee. More information about trolley routes, times, and price will be available closer to the festival.
Many downtown businesses will offer discounts and special offerings during the festival. With over 60 places to eat downtown Salem is the perfect place to have a romantic dinner or casual lunch. In celebration of the chocolate festival, many of Salem's finest restaurants will feature special chocolate offerings on their menus, including desserts, cocktails, and inventive sauces. Participating Salem retailers will offer in-store promotions, innovative displays and items geared toward chocolate and Valentine's Day, ranging from a chocolate fondue fountain to discounts on diamond jewelry. Specific store and restaurant offerings will be available on brochures distributed throughout the downtown or online at http://www.salemmainstreets.org.
Once again, Golden Tickets will be available in downtown Salem for a chance to win the Salem's So Sweet Gift Basket. Pick up your Golden Ticket at a participating location and have it validated at participating businesses (no purchase necessary) to enter to win a Salem's So Sweet gift basket which features many fine items from area retailers.
Learn More...
Posted by Kate on 01/29 at 07:57 AM
Permalink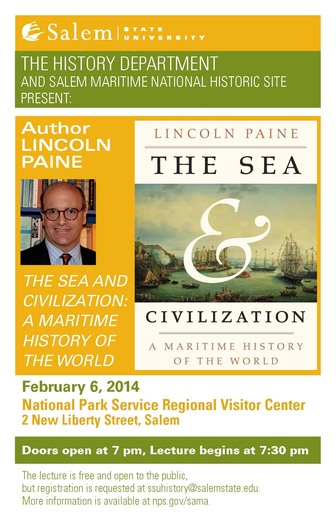 Salem Maritime National Historic Site
and the History Department at
Salem State University
will co-host two separate history talks on Thursday, February 6 and Thursday, March 27, at the Salem Visitor Center (2 New Liberty Street) from 7:30pm-9:00pm. Both talks are free and open to the public. Doors open at 7:00pm.
The first speaker, on Thursday, February 6, is Lincoln Paine, author of five books and more than fifty articles, reviews, and lectures on maritime history. His most recent work published in 2013, The Sea and Civilization: A Maritime History of the World, is a retelling of world history through the lens of maritime enterprise. The area of today's Salem has always been connected to the larger maritime world, from early Native American travel and trade, to European settlement, shipbuilding, international trade and even present-day pleasure boating. Mr. Paine offers a look at how goods, languages, religions, and entire cultures spread across and along the world's waterways. A limited number of copies of The Sea and Civilization will be available for sale at the event and may be signed by the author.
The second speaker on Thursday, March 27 is Jacob Remes, assistant professor of public affairs and history at SUNY Empire State College, in the Brooklyn Unit of the Metropolitan Center. Currently, he is the William Lyon Mackenzie King Research Fellow at Harvard University. Professor Remes studies working-class and labor history with a focus on urban disasters, working-class organizations, and migration. His history talk, "Life and Labor in the Aftermath of the Great Salem Fire," draws from his dissertation examining the overlapping responses to the Salem, Mass., Fire of 1914 and the Halifax, N.S., Explosion of 1917. Jacob Remes upcoming book, Disaster Citizenship, based on his dissertation, will be published in 2015.
Posted by Kate on 01/28 at 09:57 AM
Permalink
Subscribe to Our Blog

Free Guide!